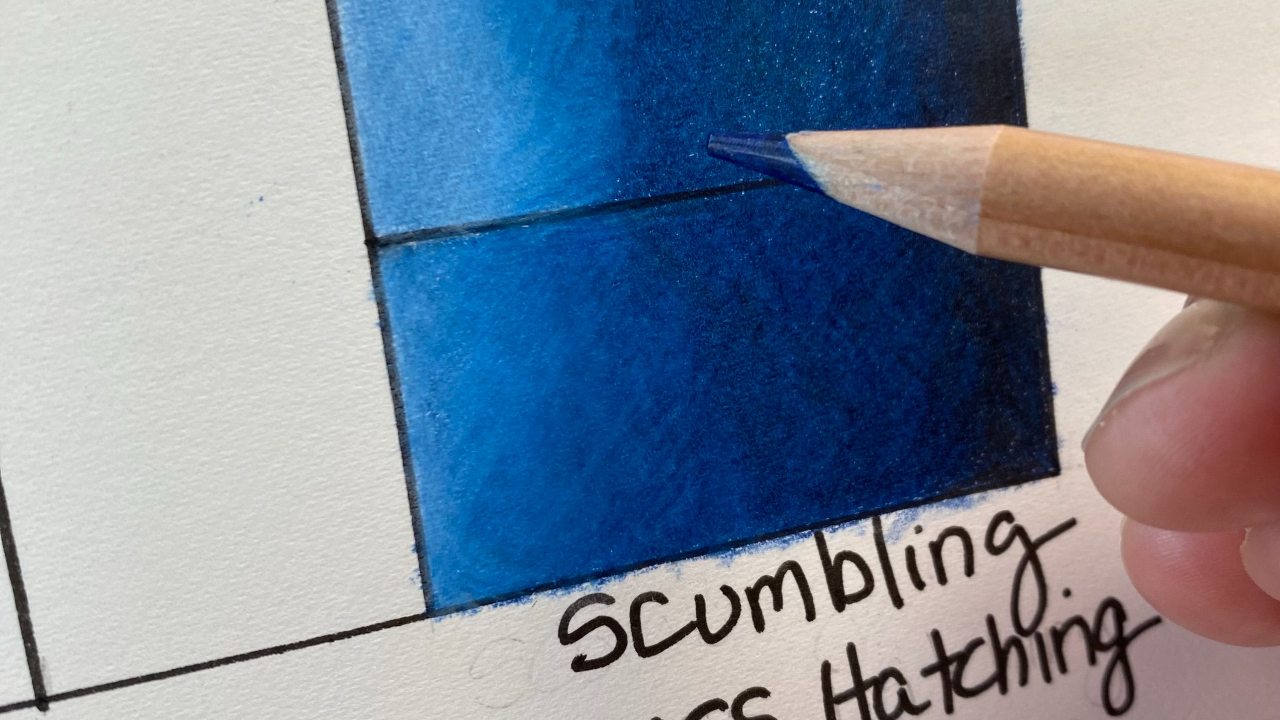 Hello Fellow Artist! 🎨
The question I get most often from my students is, "how do I blend my colored pencils?"
The answer depends on the pencils and paper you're using. Wax-based pencils blend differently than oil-based pencils.
Your pencils will blend differently on different papers, such as hot-pressed watercolor paper, Bristol smooth paper, or sanded/pastel paper.
Why is important to blend your pencils correctly? It helps create smooth transitions between different colors, creates depth and dimensionality, and gives a more polished and professional look to your artwork.
Below is a preview of my free "Ultimate Guide To Blending Colored Pencils." 👏 which is getting bigger and bigger (it may turn into a book!)
I thought I would share a little preview of my top 7 ways to blend colored pencils. If you'd like to sign up to be notified when my free video and downloadable PDF demonstrating all the techniques (plus more) are available 👉 Click here to be notified.
Here's a little preview; My top 7 favorite ways to blend colored pencils:
Layering: One of the easiest ways to blend colored pencils is by layering them on top of each other. Start with a light layer of the base color and then add subsequent layers of other colors, building up the intensity gradually. Keep adding layers until you achieve the desired color intensity.

Burnishing: Burnishing is the process of pressing down on the paper with a pencil or a blender tool to blend the colors together. Use a heavy hand and apply a lot of pressure to create a smooth, waxy surface. This technique can make the colors blend more seamlessly.

Solvent blending: You can use solvents such as rubbing alcohol or odorless mineral spirits to blend the colors. Dip a brush or a cotton swab in the solvent and then apply it to the surface of the drawing, making sure to blend the colors evenly. I use Gamsol Odorless Mineral Spirits.

Using a blender pencil: A blender pencil is a specialized tool that can be used to blend colored pencils. It's made of wax and is designed to smooth out the colors without leaving any marks or smudges. Simply use the blender pencil to go over the areas where you want to blend the colors together. The one that I love is the Derwent Blender.

Cross-hatching or Scumbling: Cross-hatching is a technique where you draw lines in different directions, creating a hatchwork of colors that blend together. Scumbling is drawing tiny circles that overlap. These techniques work well for creating textures and shading, as well as for blending colors together.

Blending with a white pencil: You can use a white pencil to blend the colors together. First, apply the colors you want to blend. Then, go over the area with a white colored pencil, applying pressure to blend the colors together. I love to use the Caran d'Ache Luminance White Pencil for this technique.

Powder Blender by Brush & Pencil: I love this product, but there is a bit of a learning curve. You have to use sanded paper with oil-based pencils to blend. (Here is a good trial pack from UArt.) However, the results are amazing for obtaining smooth blending, especially for portraits. Here is the Powder Blender.
🦋 Overall, it's important to find the method that works best for you and your artwork. Blending colored pencils takes practice and experimentation. I always tell my students, "Get to know your pencils, create swatches, play, and have fun!"
P.S. Be the first to know when my "Create Commissionable Pet Portraits" online course comes out. Click here to get on the list!
Happy Drawing! Molly 🙏 🌻
You may like this article next. It's all about paper for colored pencils. 🤓
Sign-up to be notified of new posts! The latest colored pencil art tips and techniques with a dash of watercolor! 🎨🌻
I will never sell your information.