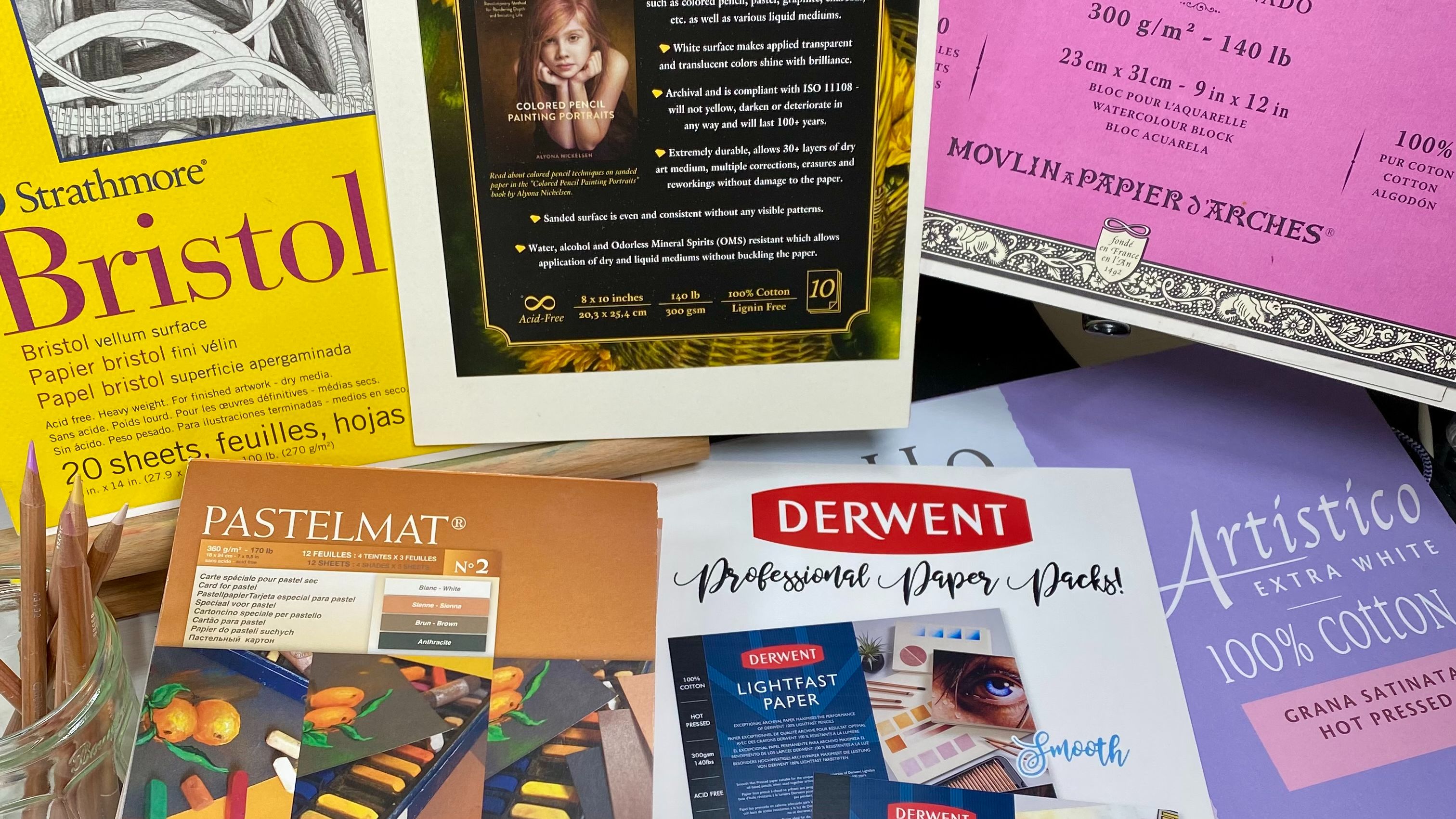 Which paper should you choose for colored pencils?
Hot-Pressed, Cold-Pressed, Bristol, Sanded, or Pastelmat? 🤯
The most important thing about choosing your paper for your colored pencil artwork is to ensure the paper (or substrate) is acid-free, which means it's protected from natural aging over time.
Then it depends on the medium you're using, do you like to use 100% colored pencils or do you like to use watercolors or pastels for base layers? Or maybe you like to use Odorless Mineral Spirits (OMS) for base layers.
Most papers will be fine with OMS for base layers and even some of the sanded papers can handle a little water if you use watercolor pencils.
The best thing to do if you're unsure which paper is for you is to try small samples. You'll know immediately if you like Sanded pastel paper or Bristol smooth paper because they are so different.
Hot-Pressed vs Cold-Pressed Watercolor Paper
Think of Hot-Pressed paper as ironed paper and Cold-Pressed as wrinkled cotton.
Hot pressed is smooth and really nice for colored pencils
because it has tooth and can hold a lot of colored pencil layers.
Cold-pressed is super absorbent and more for wet watercolors, so you won't be able to get a lot of detail with Cold-pressed. Hot-pressed is the way to go for colored pencil artwork.
I preferred Ultra White Hot-Pressed watercolor paper. I usually use Fabriano's Artistico Hot-Pressed watercolor paper extra white.
Pastel & Sanded Papers
Clairefontaine PastelMat is lots of colored pencil artists' favorite. It's pastel paper but it's not rough like a lot of sanded pastel papers.
It can take a dozen layers no problem. It can handle Pastels, Odorless Mineral Spirits, and a little water if using watercolor pencils for base layers is not a problem.
• Other pastel papers/boards that work well with colored pencils are:
Canson Mi Teintes Touch Sanded paper and boards
Lux Archival Paper by Brush and Pencil
For Fine Detail, My Favorite Papers Are:
Derwent Lightfast Paper by Derwent: Derwent came out with this paper to use with their Lightfast Colored Pencils. The paper is hot pressed and really smooth, great for detail, and holds many layers. I personally love this paper (and the pencils), so I would recommend giving the paper a try.
Bristol paper is lovely. It's super smooth and great for sharp detail. Doesn't hold as many layers as hot-pressed watercolor paper or Pastelmat. You'll need a light touch to build layers. OMS works well on Bristol paper with a light application of the mineral spirit.
There are two types of Bristol paper, smooth and vellum.
Vellum has a little bit more tooth or texture than the smooth surface. You'll get more layers with vellum because it helps grab the colored pencil as it's being laid down.
You'll get more detail with the smooth surface but not as many layers.
Many companies sell Bristol paper my favorites are Strathmore and Daler-Rowney. Daler-Rowney is a very inexpensive and quality product.
It all comes down to personal preference, which is why I recommend purchasing small sizes and playing around to see which one you love working on.
I hope this info about different papers helps you in making a decision when purchasing art supplies. If you have any questions, please don't hesitate to contact me in the chatbox below!
Happy Drawing, and Cheers! -Molly🌻
The links above are Amazon affiliate links. I earn a small commission with the links so I can bring you more tips and reviews!
Sign-up to be notified of new posts! The latest colored pencil art tips and techniques with a dash of watercolor! 🎨🌻
I will never sell your information.